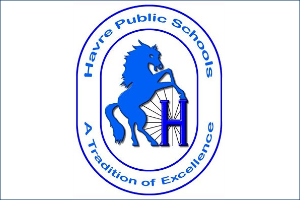 HAVRE, Mont. (NMB) – The Havre Public Schools Board of Trustees held their regular monthly meeting and voted to continue the mask requirement for the rest of June.
The policy discussed is numbered 1905, and includes social distancing and mask wearing guidelines. The policy calls for masks to be required at the District when three feet of social distancing cannot be maintained, in accordance with CDC guidelines.
The motion to continue the requirement was passed by a 6-2 vote. Trustees Jake Ingram and Britnee Loch voted in opposition.
Prior to that motion, Ingram made a motion to amend the policy to make face coverings optional immediately. The other new Trustee, Britnee Loch, seconded the motion, allowing it to be put up for discussion and for a vote. The motion failed by the same 6-2 margin.
"I would just like to see the summer kids who are coming in and working hard to make up for the heck of a year we've all had, I'd like to see them given the option," Loch said. "I understand that Mr. Mueller has wanted to keep it through the end of the summer program, but I'd like to proceed with letting those kids and families make that choice, even with the summer school."
Ingram spoke about the motion, citing a recent memorandum from State Superintendent of Public Instruction Elsie Arntzen, claimed that students are suffering adverse health effects, and said the benefits of masks do not outweigh the negative impacts, in opposition with information from the CDC.
"When, before now, have we asked anyone to adhere to medical advice they don't think is in their families best interest, and take away the option for a family to do what is best for their own children. The state mandate has been lifted, the county order has been lifted, but here we are still forcing our kids to wear masks rather than giving families the choice."
Superintendent Craig Mueller's recommendation was for the Board to continue the face covering requirement for the remainder of the 2021-22 school year. The summer school program is three hours a day and runs through June 29th. There are currently 102 students enrolled in summer school, the majority of which (58) are at Highland Park. Mueller said social distancing is easily able to be maintained at the other summer school programs, located at Havre Middle School (8 students) and Sunnyside Elementary (36 students).
13 members of the public provided public comment. 11 were in favor of Ingram's motion, two were against. Three of those against the motion were from the same family.
Some argued that the mental health of students has suffered due to the mask requirement and that those unwilling to wear a mask in school have been harmed.
"Our daughter has always been the chief rule follower of our family. But the past 18 months have given her a much changed perspective regarding the blind acceptance of policies handed down from a seemingly invisible wizard behind a forbidden curtain," said Jody Manuel, one of three Manuels that provided public comment. He said his daughter has dropped out of the District due to the mask requirement. "Trying to navigate her available options, which have essentially been limited to having schoolwork thrown at her through a computer screen and left to go on her own, has just simply not amounted to a quality education that we are promised in this state's Constitution."
One member of the public who agreed with Ingram's motion identified themselves as J D Cass. They falsely called the COVID-19 vaccines "bioweapons," and later cited a conspiracy theory involving wealthy families such as the Rothschilds.
Another person that voiced their support for Ingram's motion was former Trustee and current State Representative Ed Hill, who also cited Arntzen's memorandum and said he attended the meeting after being requested to by some of his constituents.
"(Superintendent Mueller) is stuck between a rock and a hard spot. I know what it's like, since I was on the Board. And speaking with the past Superintendent and the present Superintendent, MTSBA, well, they carry a lot of weight. And I know you guys follow what they have to say, it's important. But you do need to remember and realize that you do have the local control and you can, and I think should, consider entering the memorandum of OPI and Superintendent Arntzen into policy. Thank you."
One of the two people against Ingram's motion was County Health Board member Erica McKeon-Hansen, who provided a Zoom message to the Board.
"I strongly oppose the motion. We are seeing an uptick in cases in Hill County. With 17 new cases reported in the past six days, including many young people, I am in support of the recommendation to keep the mask mandate for the remainder of the summer and revisit it," McKeon-Hanson wrote.
Superintendent Craig Mueller says new CDC guidance is expected in the coming weeks, and Mueller says more decisions regarding the reopening plan will need to be made at upcoming meetings.
"We're going to look at this again on June 22nd…Where we will go along with this model safe return to school and continuity of services plan, which must be posted on our website by the 24th," Mueller said. "That will outline what we plan to do for the coming school year. And again, we can outline what we plan to do in the upcoming school year in this plan, guidance from masks, from MASBO, from every group has said to leave that a fluid and flexible document. So much like our reopening plan in the spring of last year, we constantly made amendments and changes to it. So we've been encouraged to get this plan up, to get it on the website, and know that there could be changes that happen to it."
Other items discussed at the meeting (all items approved were done so unanimously):
Annual dues for the Montana School Boards Association was approved. The dues are $11,412 for the 2021-22 school year
Annual dues for the Montana High School Association, as well as catastrophic and concussion insurance, were approved. Dues are $250 per activity, so the District will pay $5,000 in dues this upcoming school year. The 2021-22 premium costs are $836. The cost for the concussion insurance plan is $191.
Trustees Tim Scheele and Jake Ingram were appointed to the Calendar Committee. The purpose of this Committee is to research flexible school calendars, including four day instructional weeks and the impact it would have on all District operations
Handbooks for the each school building for the 2021-22 school year were approved
A Strategic Planning agreement with the Montana School Boards Association was approved. The plan calls for a $2,000 anticipated fee for 12 anticipated hours of strategic planning. This does not include time spent on in-house drafting and travel expenses. The contract also approved a $750 flat fee to prepare and administer a school culture/climate survey.
Revisions to policies to clarify who is responsible for ordering school closures in the event of inclement weather or another issue.
Sunnyside Principal Pax Haslem announced they have received a grant to help teach golf as a part of the PE curriculum
The Board discussed ways to improve communication with the public
The next regular board meeting will take place on July 13th at 6:30 PM at Havre Middle School. The next special meeting is set for June 22nd at 12:15 PM at the Robins Administration Building.